Power over Ethernet Hat for the Raspberry Pi 3B+/ 4B with mini PCIe Slot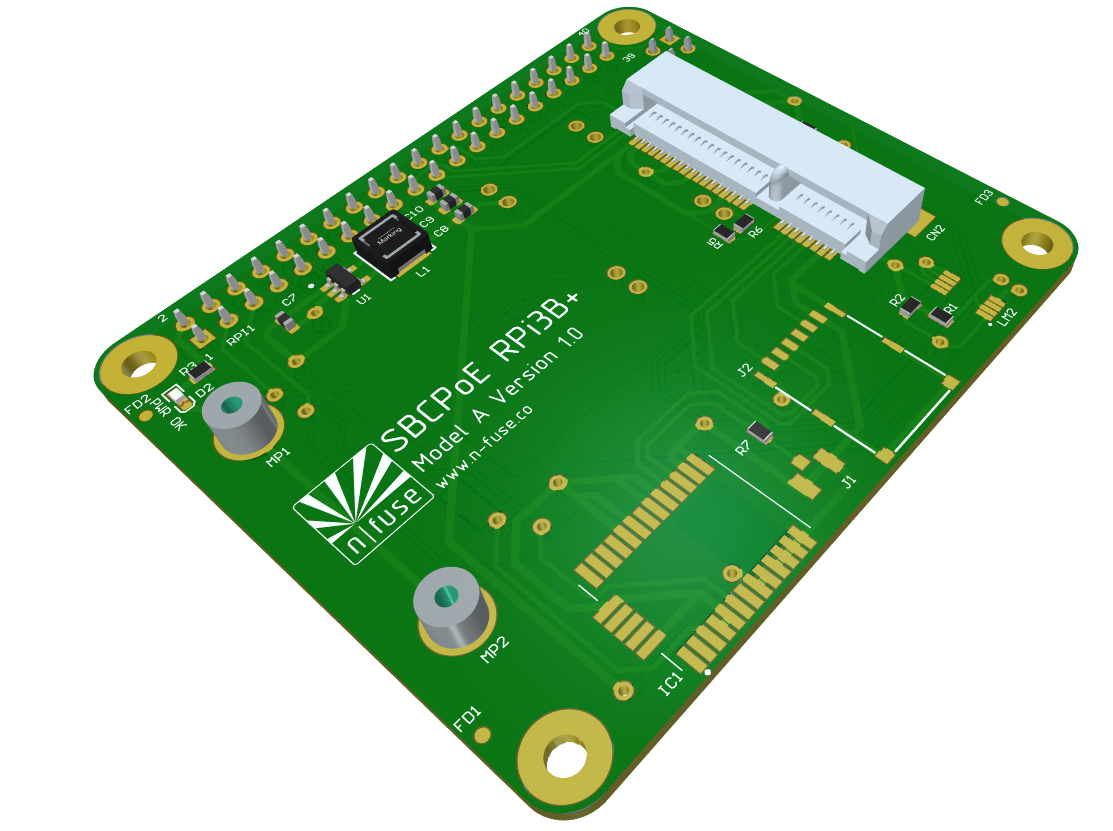 Variant

SBCPoE RPi 3B+/ 4B mini PCIe
A PoE hat for the Raspberry Pi 3B+/ 4B single board computer with mini PCIe Slot and optional GNSS module.
Highlights
Supports 10/100/1000MBit/s ethernet speeds
IEEE 802.3af compliant
Low profile and thus compatible with many standard RPi enclosures
Overload protection
7 W power delivery
Mini PCIe slot with SPI/ UART signals routed to RPi header
Power good LED
High efficiency enabled by Schottky diode bridge rectifier
Non-standard SPI connectivity between mPCIe header and RPi SP0 bus
Optional USB on mini PCIe slot through JST connector to wire
Application
The device can be used to reliably power the Raspberry Pi through PoE. The temperature can be monitored and an mPCIe card can be plugged in. The optional GNSS module is connected to the I2C bus of the RPi. Combining this with an LRWCCx-MPCIE card and a proper enclosure turns the solution into an LoRaWAN® gateway.
Wiring Up USB
USB is not available on the RPi's 40 pin header, if you need USB on the mPCIe port, the following modification is required:
Remove solder bridges R8, R9.
Solder the wires of a JST 1.25 mm pigtail as follows to the test pads on the backside of the:
1 Raspberry Pi 3B: 46 to D- on the JST connector and test pad 47 to D+ on the JST connector.
2 Raspberry Pi 4B: 18 to D- on the JST connector and test pad 19 to D+ on the JST connector.
Connect the JST connector to the connector designated with 'USB' on the backside.
WARNING: This will void the warranty of the RPi and you risk fatal damage to the devices.
Specifications
Maximum output Power
7 W
Maximum output Current
1.4 A
Output Ripple and Noise
95 mVpp
Dimensions WxHxD
65.1 x 56.1 x 60.3 mm
Weight
75 g
Temperature Range (environment)
-40 to 70° C maximum
-40 to 50° C recommended

Short-Circuit Duration
∞
Efficiency of PoE part (typical)
> 80%
Certifications
CE
Materials
RoHS, REACH
Kit Contents
SBCPoE RPi3B+ mini PCIe Hat
2x Torx mounting screws for the mini PCIe slot
2x nylon standoff spacers
Usage
Disconnect any power source from the Raspberry Pi and leave it disconnected when using the hat
Insert the standoff spacers and snap on the hat
Connect a 802.3af compliant PoE injector (usually an ethernet switch) to the RPi ethernet jack
to read the temperature from the temperature sensor, follow this guide.